Penn Dental Medicine Is Glad to Offer Discounted Dental Care for Veterans
There's no way to truly thank our veterans for everything they sacrifice for our country, but all of us at Penn Dental Medicine want to express our heartfelt gratitude. Thank you for your dedication and service to the United States! This Veteran's Day, we remember that our freedom isn't guaranteed. We recognize all members of the military who have served to keep us protected, past and present. 
On November 12th, Penn Dental Medicine is hosting a special event in honor of our veterans. To facilitate access to quality dental care for veterans, we will be holding a Veteran's Fair with 60 appointment slots available. We will provide comprehensive screening exams, including oral cancer screenings free of charge. Our goal is to support veterans' oral health by helping them to get the quality dental care they need.
In addition, we're inviting faculty members who are also veterans to the event. Participating veterans will receive dental supplies and oral health care information, with the opportunity to schedule follow-up care when needed. 
For those who seek further dental treatment at Penn Dental Medicine, we offer a Veteran's Discount for all care received at our School of Dental Medicine. All veterans are eligible for a 20% dental discount on a sliding scale fee schedule. This discount is in addition to our already low rates for dental services, which we can price competitively as a teaching dental clinic associated with the University of Pennsylvania. Also, an appointment line has been set up for the exclusive use of veterans at 215-573-VETS(8387). 
Comprehensive
Dental Care for Veterans
Penn Dental Medicine administers comprehensive dental care for patients at all stages of life. We diagnose and treat a wide variety of conditions, providing age-specific care in each of our specialties. Our preventive dental services help patients to avoid developing cavities, gum disease, and other conditions while promoting their oral health. Restorative treatments include crowns, fillings, bridges, dentures, implants, and more. When your examination reveals a specialized condition, it's not necessary for you to look for another provider to get it treated because we can usually treat it in-house. Penn Dental Medicine offers a wide array of dental specialties, all under one roof: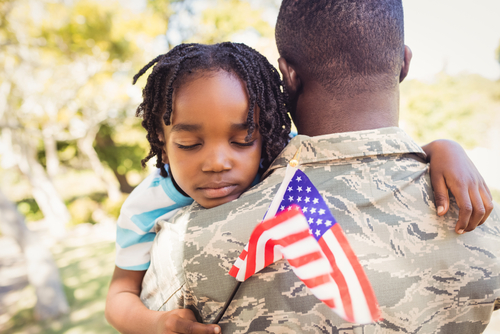 A streamlined system of care means that you'll be able to receive coordinated attention from dentists in different specialties. We are committed to continuity of care so that patients don't have to start over with a new provider every time they need specialized treatment. Penn Dental Medicine is equipped to treat oral conditions ranging from oral cancer reconstruction (prosthodontics), to oral disorders (oral medicine), to severely misaligned and/or crooked teeth (orthodontics). We provide inclusive treatment to patients of all ages, taking special measures to better serve our patients with disabilities, different language needs, and dental phobias. 
Affordable
Dental Care for Veterans
at PDM 
At Penn Dental Medicine, we are honored to provide dental care for veterans in our community and look forward to serving you. If you are on active duty or a veteran, we hope that you will come to visit us this November 12th. All veterans receive a free oral examination as well as information about how to promote a healthy mouth. To reserve your spot at the Veteran's Fair, please call us at 215-573-VETS(8387). Please contact us as soon as possible— appointment slots are limited and fill up quickly! 
Interested in learning more about how to become a patient? Please come to the Veteran's Fair with your questions. We look forward to serving you soon!