We Follow Best Practices as Set out by the Centers for Disease Control and Prevention
Are you wondering whether it's safe to go to the dentist amidst the coronavirus pandemic?
After the novel coronavirus (also known as SARS Cov-2) hit the United States, more than 90% of dental offices closed down and canceled all (except for emergency) procedures. In Pennsylvania, stay-at-home orders required dental offices to remain closed starting in March. 
As the state begins to open up again, Penn Dental Medicine is now able to offer elective and non-emergency dental care. Many people have fallen behind on much-needed dental procedures, putting them at risk for more serious dental conditions. Problems with your teeth won't heal on their own. That's why we are strongly recommending patients to reschedule their appointments as soon as possible. 
Have you had tooth pain during the last few months? Do your gums bleed when you brush your teeth? Have you missed an orthodontics appointment to tighten your braces? Have you noticed that your tooth has become loose? Or did your crown fall off or become exposed?
Clearly, there are many reasons why you might need affordable dentistry services right now. After all, the need for quality dental care doesn't slow down or stop, even with a pandemic. We recognize that everyone has been doing the best they can to cope with ongoing dental issues until they can make a safe trip to the dentist.
As a national leader in dental best practices, Penn Dental Medicine has taken extensive measures to protect our patients and staff. We are continually updating our practices in accordance with guidelines from the American Dental Association (ADA) and the U.S. Centers for Disease Control and Prevention (CDC). When it comes to the coronavirus, the science is clear: there are certain things that you can do to prevent the spread. Things like wearing masks, staying at least six feet away from other people, and frequent sanitation are effective protections. 
Safety Patients Can Count On
The safety of our patients and staff is the most important concern as we resume providing dentistry services. At your next dental appointment, you'll notice that we've implemented the most strict measures to ensure a safe environment for everyone who comes through our doors: 
1. Pre-screening
The day before your appointment, you will receive a call to determine your current health status and any possible COVID-related exposure. You will be asked a series of questions, which help to protect our community. Any paperwork related to your appointment will be completed over the phone to minimize contact with staff when you come in. 
2. Social distancing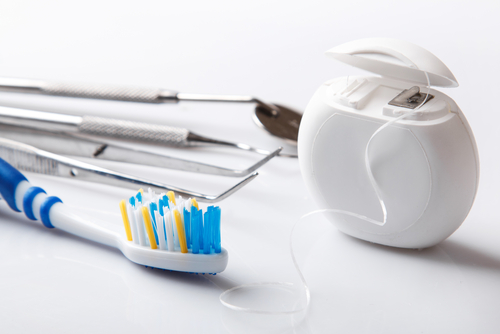 Our care centers will initially be operating at 20% occupancy to allow for social distancing between patients, as well as staff. Appointments will be scheduled with a larger time buffer between them to minimize the number of people in the same space at any given time. Please do not arrive more than 15 minutes early, as we will ask you to remain outside of our offices to reduce waiting room congestion. You should come to your appointment alone or with only one companion if necessary. 
3. Mask wearing
Everyone must wear a face mask at all times, including staff, patients, and any companions. It's very important to follow this rule, as the coronavirus transmits through air droplets when a person speaks, coughs, or sneezes. Wearing a mask has been shown to be an effective measure for preventing transmission when everyone complies. 
Don't have a mask? The CDC has provided a helpful guide for making your own mask at home, including those that don't require sewing.
4. Use of hand sanitizer
You will be asked to use hand sanitizer and mouth rinse before treatment. The alcohol in hand sanitizer neutralizes the virus, which makes this an essential safety measure. Even if you don't have any symptoms of the coronavirus, it's possible to pass it on to others without knowing it. Using hand sanitizer and mouth rinse before your procedure protects our dental hygienists and student dentists.
5. Stringent sanitation 
Our student dentists and dental staff will be using comprehensive personal protective equipment (PPE), including face shields, face masks, and full-body coverings. All equipment is wiped down between appointments to maintain a virus-free space. During the shutdown, we've also taken the opportunity to install specialized air filters in our offices. 
Safety and Affordability at Penn Dental Medicine
If you're still worried about the dentist and coronavirus, we encourage you to call us about your concerns. Whether you have a history of dental problems, need more frequent cleanings due to gum disease, or simply don't know what to do, we are here to help you make the decision that's best for you. If you are experiencing a dental emergency such as a broken tooth, infection, pain, or swelling please contact us immediately. 
When you visit us at Penn Dental Medicine, you can trust that we are taking the most strict measures to protect our patients. As a profession, dentists are accustomed to maintaining high levels of infection control and sterilization—and PDM is at the forefront of best practices according to public health recommendations. You won't find a dental office that is more dedicated to keeping you safe and healthy. To schedule your appointment, please call us at 215-898-8965 or fill out our appointment form. 
Are you a first-time patient? Fill out our simple form to receive $25 off your first visit!