Receiving quality dental care is essential to every child's healthy development. However, accessing the quality services that your child deserves can be unfortunately be challenging at times. If you're looking for a pediatric dentist that accepts Medicaid, then look no further than Penn Dental Medicine.
Understanding Medicaid and CHIP
These state-sponsored programs are designed to bridge the gap in health care coverage, including dental services. States are required to provide dental benefits to children who are covered by Medicaid and the Children's Health Insurance Program (CHIP). Eligibility for these programs is determined based on household income. Individuals under age 21 can receive dental services through Medicaid.
States decide whether to provide dental benefits to adults on Medicaid. To learn whether you or another adult member of your family can receive dental services, you should check with your state's Medicaid website. All child enrollees, however, are entitled to a comprehensive set of services called the Early and Periodic Screening, Diagnostic, and Treatment (EPSDT) benefit.
Although each state handles children's benefits differently, they must include at a minimum:
Relief of infections
Restoration of teeth
Maintenance of oral health
States that provide CHIP coverage through Medicaid expansion must offer the full EPSDT benefit. States with other CHIP programs must provide the care "necessary to prevent disease and promote oral health, restore oral structures to health and function, and treat emergency conditions."
Pediatric Medicaid Coverage at Penn Dental Medicine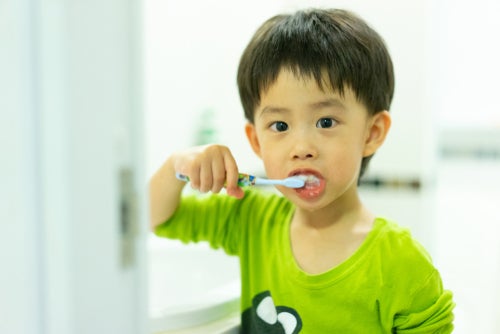 Penn Dental Medicine offers excellent dentistry services to children through our pediatrics department. Our student dentists enjoy getting to know each child patient and finding the best ways to help them feel comfortable. With a kid-friendly dentist's office and affordable rates, we ensure that all of our child patients can access the care they deserve.
Penn Dental Medicine accepts payments from the majority of dental insurance plans, including Medicaid plans offered to residents of Southeastern Pennsylvania. That makes PDM one of few pediatric dental practices that accept Medicaid. Only 38% of dentists in the U.S. accept Medicaid or CHIP.
We encourage you to consult your certificate of coverage to learn what your plan covers. You should check your certificate for details such as co-payment requirements, service limitations, yearly maximums, and deductibles.
Why Are Pediatric Dental Appointments so Important?
Did you know that tooth decay is the most common childhood illness in the United States? Taking your child to the dentist early on is one of the most important steps you can take to set them up for a healthy, happy future. Children who suffer from dental decay miss more days of school and have more difficulty learning, eating, and speaking.
The ADA recommends scheduling a child's first dental appointment within six months of their first tooth coming in. Alternatively, you can plan to take your child by their first birthday.
Wondering what to expect at your child's first appointment? The student dentist will begin by examining their teeth and oral structure. You'll be informed about any concerning aspects of your child's oral health and learn how to provide proper oral care. This is a great opportunity for you to ask questions and for your child to get accustomed to being at the dentist's office! Sometimes, very young children may have incipient tooth decay from prolonged exposure to the sugars of breast milk, juices, or other sugary drinks. Your student dentist will advise you on best practice and can explain treatments offered specifically for children if the tooth decay is advanced.
Pediatric Care for the Long Run
Many parents don't realize that pediatric dental care is important for their child's future. No parent wants to see their child in pain and suffering because of a cavity, but the danger extends even beyond this temporary discomfort. Decay in primary teeth increases a person's risk for decay in the permanent teeth.
Visiting the dentist early and on schedule is the best way to guard against this possibility. The dentist can show you exactly how to brush your child's teeth. In addition, the dentist can apply treatments which will disrupt and/or kill bacteria. These treatments call for advanced techniques and materials that simply aren't accessible in the home.
Pediatric Care at Penn Dental Medicine
If your child has coverage under Medicaid/CHIP, we encourage you to seek care at Penn Dental Medicine, a leader in pediatric dentistry. If you are unsure about what services would be covered under your current plan, we can provide a quote at your child's appointment. All patients are advised on their recommended treatment and estimated cost in accordance with their insurance plan. Before any treatment is initiated, the parent and the attending faculty member must sign the treatment plan. We strongly recommend making your child's initial appointment before making any decisions, as routine examinations will be covered under CHIP.
For patients visiting PDM for the first time, we would like to offer this $25 off coupon! Simply fill out the form with your contact information and we can call you to schedule your (or your child's) appointment. We look forward to seeing you and your family soon!