That's because Penn Dental Medicine is committed to keeping our patients informed and aware.
We do everything we can to help you feel confident and comfortable about your surgery. Our patients know that they're getting the best care at the best price. We've collected some of what our patients say into this informational flyer, 5 Reasons Patients Choose Penn Dental Medicine For Their Oral Surgery.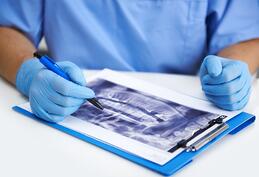 In this short, three-to-five-minute read, you'll learn why oral surgery patients love Penn Dental Medicine, including the answers to these questions:
What sets the oral surgery team at Penn Dental Medicine apart from other clinics?
What do the students and the doctors bring to the table?
How do procedure costs at PDM compare to other clinics?
Why choose PDM over other nearby clinics?
If you're still undecided on a team to help with your oral surgery, you'll want to read this. Fill out this form to receive your complimentary download and start learning!