Understand the Nature of Dental Fear and How We Can Help You Overcome It
How can I get over my fear of the dentist? It's a question more dental patients have asked than you might imagine!
Another query we hear at Penn Dental Medicine: How common is dental anxiety?
If you've noticed that you tend to skip or avoid going to the dentist because of how anxious you feel, you're not alone—17% percent of the population (almost one in five people), avoid care due to fear.
The reasons for feeling afraid are normal and to be expected. For one, people with dental fear often don't go in for preventive care. Since they only visit the dentist once a serious problem has developed, this reinforces their worst imaginings and thereby compounds the problem. Other common causes of fear are that:
A lack of knowledge of the instruments being used (such as

fear of dentist needles

)
The good news is that these fears can be addressed and overcome when handled appropriately. And, that doesn't mean you need to have anesthesia every time you visit the dentist. While anesthesia can be a helpful tool that gets you through more complex procedures, it's not a panacea. It doesn't address the root causes of the fear, which means that most patients that use anesthesia probably still aren't visiting the dentist as often as they should for preventive care. The other issue is that you don't want to be reliant on anesthesia since it does carry a risk for complications. 
Introducing the Penn Approach to
Dental Fear
Dentists can do a great deal to ensure that patients don't feel afraid, without using drugs or putting you to sleep during the visit. Rather, it's about empowering you by helping you understand why the fear is there and doing specific things to reduce it. We utilize insights from clinical psychology in our treatment of patients with dental fear.
Here are some of the tools we're using at Penn Dental Medicine, which we believe will soon become standard practice across the dental profession. 
1. Pre-assessment
During the pre-assessment stage before your appointment, we administer a questionnaire that includes questions about dental fear. Patients are asked to rate their answers on a scale of 1 to 10. In our experience, a rating above 7 often means that the person will avoid care even when this makes the problem much worse. 
2. Desensitization videos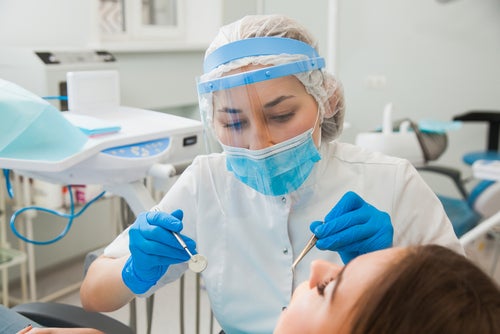 In partnership with a group of clinical psychologists, we are creating desensitization videos for patients to watch before coming to their appointment. These videos explain some of the common causes of fear and provide useful information about topics that can influence fear.
3. Motivational interviewing 
All student dentists at Penn Dental Medicine are trained in motivational interviewing, a technique to improve patients' oral hygiene behaviors. This collaborative, patient-centered approach enhances the relationship between the dentist and the patient. As part of this interviewing, student dentists will bring up the subject of fear with any patient who scores between 4 and 10 on the pre-assessment. The purpose is to understand the things that could be triggering your fear and create a plan with you how to manage them during the visit.
4. Phobia-sensitive care 
At Penn Dental Medicine, we want you to learn how to feel comfortable in the dentist's chair. We use different techniques to help you become more at ease. For example, we can work out a signal, like raising your hand, whenever you want the dentist to stop. Even simple measures like this can be powerful in giving you a way to exercise control over your own care during the visit. 
5. Post-visit assessment 
After your visit, there will be a time for you and your dentist to discuss how it went. Don't think that this is an unimportant aspect of the appointment—treating dental phobia is part of your overall care. Please share your experience as openly as you can, as this will guide the way for what we do next time. Our goal is to help you make real progress in overcoming your dental fear at each visit!
Patient-Centered Care at Penn Dental Medicine 
After conducting research with pre- and post-test measures of dental anxiety, we've found that a statistically significant number of people feel better. By using a patient-centered approach to care, together we can identify what makes you most afraid and take measures to empower you in your own care. We want to find ways to help everyone to feel more at ease!
Whether you are moderately nervous or absolutely terrified of the dentist, we are here to help you navigate and eliminate dental fear the best we can! To schedule your appointment at Penn Dental Medicine, please call our offices at 215-898-8965. And if you're a first- time patient, be sure to take advantage of our $25 off coupon!