Why Seek
Dental Prosthodontics
Care?
In June 2020, we will have our first graduating class of our new prosthodontists program! Penn Dental Medicine is home to the only graduate prosthodontics program offered in the city of Philadelphia. To put that in perspective: there are about 195,722 general dentists in the country, as compared to only 3,500 prosthodontists! That means there are about 56 dentists for every one prosthodontist.
Dental prosthodontics is a specialty that focuses on the restoring and replacing of teeth. If you suffer from chipped, broken, or missing teeth, a prosthodontist can help. While general dentists have training in these procedures, a prosthodontist is equipped with advanced techniques and knowledge. A prosthodontist has completed dental school plus an additional three years of training in a CODA-accredited prosthodontic graduate program. 
Featuring Our Recent Graduates 
The class of 2020 will be the first to graduate from the new prosthodontics program at the University of Pennsylvania School of Dental Medicine. Below, we've included profiles from two of our prosthodontist graduates, where they reflect on their experience at Penn and where they hope to utilize their skills in the coming years: 
Faisal Al-Hussainy, DDS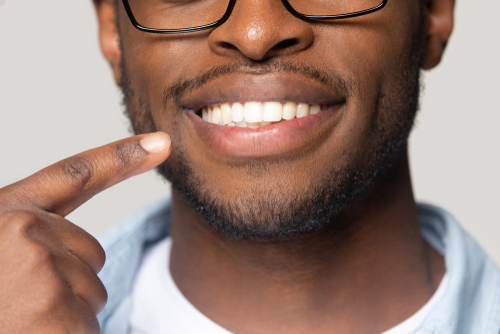 I graduated from the University of Baghdad College of Dentistry in Iraq in 2012. I then pursued higher education in the U.S. After passing both parts of the National Board Dental Examination, I enrolled in an externship program at the University of Illinois in Chicago for one year. While there, I participated in two research projects, one of which was with Indiana University at the Oral Health Research Institute. 
In 2017, I was accepted into the prosthodontic residency program at the University of Pennsylvania School of Dental Medicine and I am in the first graduating class. During my three-year residency, I presented posters and presentations on a national level and won first place for Research Day at Penn Dental Medicine.
The University of Pennsylvania has a stellar reputation in dental practice as well as research. Prosthodontics was always my first choice and long-term goal because I can blend my passion for art and science. As a resident, I was fortunate enough to be a provider for ultimate health care plans, which means I could serve Medicare patients. Since I spent so much time with my patients, I built long-term relationships with them and they became like family.
In addition, I had the chance to work as part of an interdisciplinary team with other departments at Penn Dental Medicine, the Philadelphia VA Medical Center, and the Hospital of the University of Pennsylvania. Because the program was new and designed to be small, this encouraged one-on-one learning experiences. Philadelphia is a big, diverse city, which has meant an abundance of patients from different backgrounds, all of which I have enjoyed treating.
Stephen Cross, DDS
I knew I wanted to be a dentist from an early age. It wasn't until I became a dental student that I knew I wanted to be a prosthodontist. Looking back, I'm amazed that a young teenager from the beautiful island of Jamaica who decided that he wanted to be a dentist has been able to realize that dream– and will now graduate as a prosthodontist.
Prosthodontics is the only specialty that makes sense for me and I am proud to be entering this prestigious and rewarding field. Earning my Doctorate of Dental Surgery from the University of Maryland in Baltimore was one of my proudest accomplishments thus far. I am excited to return to the state I call home with the skills required to start a career as a successful prosthodontist.
Visiting a Prosthodontist at Penn Dental Medicine
With our deeply reduced costs and access to faculty experts, Penn Dental Medicine offers a unique opportunity to patients who require more complex dental care. We offer dental services for a variety of conditions: 
Tooth replacement
Dental implants are highly recommended thanks to their longevity and effectiveness. The procedure consists of placing an artificial root (anchor) in the gum, which fuses to the jaw naturally. A prosthetic tooth that looks and feels like your other teeth is then placed on the anchor. 
Full or partial dentures offer another option for people who are not candidates for dental implants. Dentures are removable frames that contain artificial teeth, which prevent your other teeth from shifting into the empty space.
Dental restorations
A restoration is a way for the dentist to replace or repair missing parts of the tooth structure. Tooth structure may be missing due to decay, a fracture, or deterioration of a previous restoration. 
Fillings are the most common type of restoration, and are used to restore a tooth damaged by decay. The decayed material is removed, cleaned, and replaced with a filling material made of gold, silver, amalgam, or composite resin. Crowns are often used in conjunction with fillings. A tooth-shaped "cap" is placed over the tooth to hold its shape, size, and appearance. 
Cosmetic dentistry
While any dentist can say they are a cosmetic dentist, a prosthodontist is the most qualified to perform procedures that improve both the appearance and function of teeth. We strongly advise anyone who is seeking cosmetic treatment to consider care with a prosthodontist.
Oral cancer treatment
The radiation therapy associated with oral cancer treatment can damage the bone and tissues of a patient's mouth. Prosthodontists are expert practitioners in reconstruction, coordinating a multidisciplinary team of dental specialists to address the different aspects of treatment. Anyone who is preparing to undergo oral cancer radiation should visit with a prosthodontist beforehand to prepare a treatment plan.
Even if you're not sure whether you need care from a prosthodontist, you can make an appointment to find out whether you could be a candidate for dental prosthodontics treatment. Our examination and screening process is free of charge, so we encourage you to take advantage of this complimentary consultation! Slots are limited and demand is high due to the low number of prosthodontists in the Philadelphia area. To schedule your visit, please call us at 215-898-8965 or use our online appointment form.