Both You and Your Child Should Feel at Ease with Your Pediatric Dentist
Have you been searching online for a "pediatric dentist near me"? When you need to find a dentist for your child, it's important to learn as much as you can to choose the best provider. Most parents would agree that safety, quality, and a child-friendly environment are top priorities when selecting a dentist for their child. 
Safety First
Dental visits should be a routine, and generally agreeable, experience for most people. It should go without saying that no parent should ever worry about safety when their child receives dental care. At Penn Dental Medicine, parents can rely on the exceptional care provided by our pediatric dentists. 
A fully equipped facility with access to the Children's Hospital of Philadelphia, Penn Dental Medicine ensures quality and safety for every child under our care. When performing oral surgery for children, we abide by the anesthesia guidelines issued by the American Dental Association and take special measures to ensure your child's comfort during any procedure. Below, you can learn more about how we prioritize a child-friendly environment when providing pediatric dental services. 
Quality Care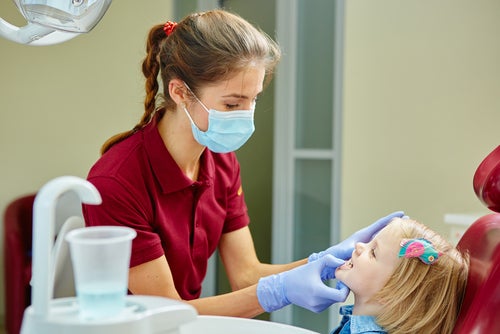 Penn Dental Medicine has been teaching excellence in dentistry since 1878. As an Ivy-League institution, we guarantee the highest quality care to our patients, who know that they can trust the Penn name and reputation. Procedures are performed by our student dentists and carefully overseen by experienced Penn faculty members. At PDM, your child will benefit from the collective experience of our dental team, with the expertise that comes from years of research and clinical practice. 
We believe that our long history of quality and our reputation in the region make us stand out as an exemplary provider of pediatric dentistry. Because we are an educational institution of the University of Pennsylvania, we are accountable to the highest standards of dental excellence. Families choose us because they know that our pediatric care is among the best they will find in the field.
State-of-the-Art Technology
A major advantage of choosing Penn Dental Medicine regards our access to state-of-the-art dental technologies. As a dental school, we have dental equipment on-site and available for use at the time of your child's appointment. For many private practices, it's simply not feasible to keep these dental technologies at their office. The benefit of receiving care from PDM is that our facilities make it possible to house these pieces of important equipment. For you and your child, that means easy access to materials and technologies with cutting-edge features. Our equipment is current, quality, and offers the most advanced capacities. 
A Child-Friendly Environment
Our student dentists work hard to help children feel comfortable at their appointment. We are prepared to meet the needs of diverse children, including patients for whom English is a second language and those with special needs. For very young patients who have anxiety or other special needs, we provide the option of sedation at the Children's Hospital of Philadelphia. When it comes to finding a trustworthy, quality provider for your child's dental care, you will not find a better option than Penn Dental Medicine.
Affordable Preventive Care at Penn Dental Medicine
Pediatric dentistry is all about prevention. Childhood sets the stage for a lifetime of good oral health, which is why it's so important to choose a provider that will apply the best practices in preventive care while taking the safety measures required when a procedure is necessary. We are also proud to offer our services at discounted rates, which makes it possible for many more families to receive the dental care they need. If you would like to learn more about pediatric dentistry near you at Penn Dental Medicine, please call our offices at 215-898-8965 or fill out our contact form today.