The rise of digital development in dentistry holds great promise for both the patient experience and dental outcomes. While the artistic element of dentistry has stayed the same, the tools are now different. Digital handicraft has become a sought-after skill among patients needing dental restorations. Now, dental schools must embrace the challenge of preparing a new generation of student dentists with the best digital tools in the industry. The University of Pennsylvania School of Dental Medicine is leading this effort with a new focus on mastery of digital equipment within a clinical setting.
What Is Digital Dentistry?
The dental industry has been undergoing a profound shift as digital dentistry is increasingly mainstreamed into best practice standards. Now that digital equipment, such as scanners, milling machines, and computer software, have entered dental labs, patients will experience faster and higher quality treatment.
Today's dental technologies incorporate digital components to carry out dental procedures, replacing mechanical and electrical tools. The use of digital dentistry improves the efficiency of these procedures, both for diagnostic and restorative purposes.
As traditional methods are modernized by digital technologies, patients will experience the best that dentistry has to offer. Evidence-based methodologies are combined with advanced imaging technologies to improve the patient's dental outcomes. Penn Dental Medicine is committed to remaining at the leading edge of innovation, which includes using the latest and best tools that are currently available: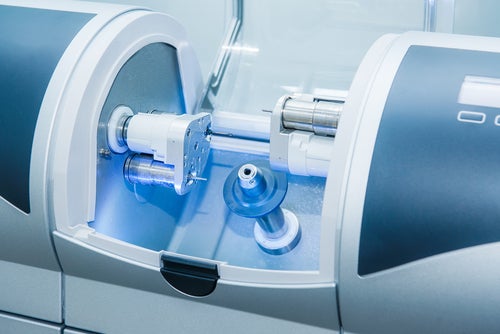 Digitized Impressions: At Penn Dental Medicine, you won't have to tolerate a mouthful of impression plaster, paste, or wax. Traditional impressions can be uncomfortable for patients and require more steps before treatment is complete. They also lack the precision that can be achieved through digital means. The iTero intraoral scanner creates highly accurate 3-D images that are later used by CAD/CAM technology to manufacture restorative crowns, bridges, dental implants, and even invisible braces. We're excited about what this means for our patients. Besides elevating the precision of treatment, digitized impressions deliver speed by combining multiple steps. Before, we would place a temporary restoration while the permanent one was being manufactured in the laboratory. Now, it's possible to take your impression and create the restorative piece on-site all during the same visit. While this single visit itself may be longer than normal, patients agree that it's much more preferable than scheduling multiple treatment sessions!
Digital Radiography: Dental x-rays are safer and more convenient in their new digitized form. For patients who feel put off by traditional radiography because of the wait time and radiation exposure involved, digital radiography offers a high-tech alternative. When you receive a digital x-ray, the student dentist will insert a sensor into the mouth to capture images of the teeth. These images will then be projected to a computer screen, where they can be reviewed right away.
What Is CAD/CAM?
Penn Dental Medicine is proud to be one of the few dental practices that offer computer-aided design (CAD) and manufacturing (CAM). These terms describe the type of software used by dentists to perform complex procedures faster and more accurately.
A CAD/CAM computer is what the student dentist uses to see the sophisticated image created by the iTero scanner. The image is used to design a restoration that will fit perfectly in the indicated area of the mouth.
An advantage of computer-aided design is that it helps to significantly cut down on design time, making it possible for us to scan, design, mill, polish, and place the restoration within a single office visit. CAD/CAM technology constructs a wide range of dental products, including crowns, veneers, onlays, bridges, and abutments for dental implants. Restorations crafted by CAD/CAM technology are better, more durable, and more natural-looking than those produced by traditional methods.
CAD/CAM Design and Milling Center
Penn Dental Medicine is proud to announce the opening of our CAD/CAM Design and Milling Center in the lower level, where pre- and post-graduate students will be involved in the designing and milling of ceramic restorations. A new dental technician will support student dentists in the CAD/CAM process in a full digital workflow. We are excited to be able to extend the benefits of this cutting-edge technology to our work with patients while preparing the next generation of leaders in the field.
The Penn Dental Difference
Penn Dental Medicine is an internationally-known institution that is shaping the future of dental education, research, and patient care. Since 1878, we've been providing comprehensive, patient-centered oral health care to the Philadelphia community and beyond.
We are dedicated to educating students within a high-quality clinical environment, which includes access to state-of-the-art technologies. It's rare to find all these tools present at one location, which is one thing that sets us apart as a premier dental school. These tools allow us to diagnose and design a more tailored approach to each patient, translating into a superior quality of care. And, we offer this care at a highly competitive rate within every dental specialty.
Our affordable services are provided by student dentists who are being guided by the best in the profession: the faculty of The University of Pennsylvania School of Dental Medicine. To learn more about our team or schedule an appointment, please click here or give us a call at 215-898-8965.