Tired of incessant mouth pain?
Ready to resolve the irritation caused by biting into food?
Worried that your heat and cold tooth sensitivity is more than an annoyance?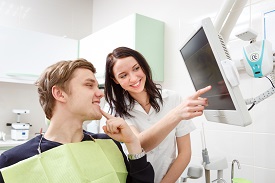 When you know it is time for a checkup, and there is existing pain that you are concerned about—don't you want to be certain that the dentist you are choosing has the resources to immediately treat any tooth decay? When it comes to tooth inflammation and infection, each patient's condition looks a little different and it is possible that all parts of the tooth including the enamel, dentine, and pulp are at risk.
Here at Penn Dental Medicine, we alleviate pain, provide restorative treatments, and strive to save the natural tooth.
We invite you to fill out the form on the right to schedule your first visit. We can be reached by phone at 215-898-8965. Finding answers for your tooth pain shouldn't have to wait! We know root canals, and we treat patients like you every day. But, don't just take our word for it—come see for yourself! Call us now to get started.