Did you know that Penn Dental Medicine has an entire division committed to providing community care and engagement opportunities for students and faculty while providing quality dental care for communities that need it most? The Penn Dental Medicine Division of Community Oral Health makes it possible for underserved populations to receive convenient and comprehensive dental care. At the same time, pre-doctoral students gain experiential and clinical education in community and public health, health promotion, cultural competency, ethics, and more. 
Plus, the Division of Community Oral Health has fostered partnerships with many organizations and nonprofits to bring unique and much-needed services to local communities. Puentes de Salud and Sayre Health, for example, provide accessible, multi-faceted dental services and options for low-income families seeking a dentist that takes Medicaid and affordable payment opportunities. 
Expanding Community Reach and Affordable
Dental Services
The Division of Community Oral Health has established many long-lasting, deeply rooted partnerships with organizations in areas that need affordable and comprehensive dental care. Puentes de Salud and Sayre Health mentioned earlier, encapsulate what Penn's community outreach is all about. In a recent edition of the Penn Dental Medicine Journal, Penn Dental Medicine's Dean Mark Wolff said it best: "Meeting our patients where they are, in the communities where they live, work, and attend school, is what our mission is all about." 
By bringing dental chairs to Puentes de Salud (1700 South Street) and Sayre Health (5800 Walnut Street, REAR), Penn Dental Medicine has helped provide comprehensive dental care to children and adults who would typically have trouble accessing it. 
For Puentes de Salud, financial difficulties combined with lack of health insurance, access to providers, trust in medical professionals, proper oral hygiene, and preventative care posed multiple obstacles for the Latin American immigrant community which the organization serves. A partnership with Penn's Division of Community Oral Health, in addition to providing much-needed dental chairs, has brought hope to this community. 
The Puentes de Salud Dental Center also offers chair-side translation (with an innovative portable system that can translate nearly any language), a welcoming environment, and the physician-led guidance of highly-trained, compassionate third- and fourth-year dental students. 
Sayre Health is a small dental clinic that is located within Sayre Health Center. Student dentists provide services under the direct supervision of Penn Dental Faculty for patients of all ages.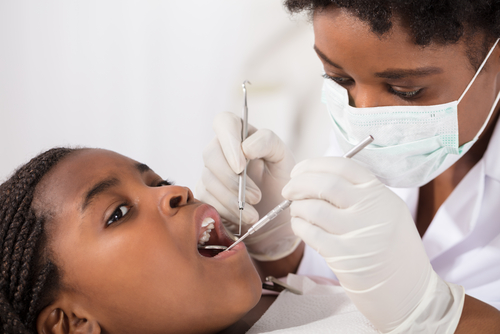 Puentes de Salud and Sayre Health ensure patients are able to receive adult, pediatric, and general dentistry options, with individual services such as:
Examinations

Cleanings

Crowns

Extractions

Deep Cleanings

Sealants

Filings
Of course, while highlighting the benefits of how local communities benefit from Penn Dental Medicine's local outreach, it is also important to acknowledge the invaluable experiences gleaned by Penn's dental students. In addition to sharing their growing knowledge and skillsets with a diverse population of patients in need, these predoctoral students have access to a wealth of dynamic opportunities, not all dental students are able to experience.
And, because of their intimate knowledge and practice, these future dentists will be able to better serve their communities.  
Affordability Alongside Accessibility
In addition to ensuring that the people who need quality and highly recommended dental services the most receive them, affordability is key. The dental offices of Penn Dental Medicine, Puentes de Salud and Sayre Health accept Medicaid of Philadelphia as well as other cost-effective payment options for dental care. 
To learn more about affordable dental care, we recommend visiting our Division of Community Oral Health web page, as we have many other community-based partnerships with dentists that take Medicaid and cost-friendly payment plans. 
We encourage you to download our complimentary eBook, "Affordability of Truly Comprehensive Dental Care," for further guidance on how to get the best dental care at a manageable price. 
If you would like to contact a helpful Penn Dental Medicine team member, you can reach us at 215-898-8965.