The Options for Inexpensive Dental Implants Vary
Are you looking for affordable dental implants? Are you wondering the best way to explore this option on a limited budget? For those with one or more missing teeth, dental implants are one of the most reliable and durable solutions available, but they do come with an initial investment.
Unfortunately the procedure can be costly, and inexpensive dental implants can be a rare find. A single tooth implant could cost thousands of dollars. And while cost is certainly important in this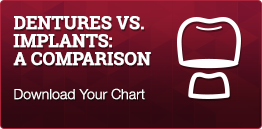 decision, so is the decision to find a trustworthy dentist to do the operation.
So how can you find a place that offers both affordable dental implants and quality care? Penn Dental Medicine has the answer:
The Affordable Alternative: Our Dental School
At Penn Dental Medicine, we pride ourselves on our reputation of quality and excellence.
As the teaching clinic of the University of Pennsylvania School of Dental Medicine, we distinguish ourselves by staying ahead of the curve and on top of the best practices in the field. Our dental students are directly supervised by some of the most knowledgeable and experienced dentists in their field, guaranteeing top-notch dental service for you.
Receiving care from a teaching clinic at a dental school is one of your best options if you are looking for affordable dental implants. Why? Because of the educational focus and setting, patients receive exceptional care at a discounted rate. Here we'd like to offer you more information on procedures you might want to consider as you look for possibilities compatible with your budget.

3 Types of Affordable Dental Implant Options
Implant Supported

Dentures


Several types of implants can secure

dentures

, providing "snap-in" denture stabilization to ensure that the dentures stay in place. These "

snap-ins

" are flexible and can be taken out for cleaning and care. This is a practical solution if you need a full jaw of teeth replaced but cannot afford implants for all of the teeth. However, unlike

individual dental implants

, the dentures do not function exactly like your original teeth and require regular removal, cleaning, and, eventually, replacement. However, if you need a more affordable option, then this is a good place to start!



Full-Arch Implant Solutions


Some systems have more permanent structures, which means they cannot be removed by the patient. A bridge— the structure of a full jaw of fake teeth— can be attached to metal implants for a semi-permanent solution. These high-support systems can range from screw-retained denture systems to zirconia tooth implants. This solution requires less maintenance; bridges do not need to be removed to clean. But bridges do have a limited lifespan and may need to be replaced in the future.
Single/Multiple Implants


Whether you need a single tooth or multiple teeth replaced, individual implants are also a viable option. This is a robust, long-term solution that will cost more upfront but less later on. Each prosthetic tooth is mounted on a titanium post embedded in your jaw.





The implant stimulates bone growth, maintaining your natural bone structure in a way that dentures and bridges are unable to do. You are able to chew food and clean your new teeth exactly like your natural teeth. While this is usually the most expensive option, individual implants will last a lifetime and will save you money on maintenance and replacement.
Regardless on the procedure you choose, the best way to receive affordable dental care is to  visit a dental school for affordable dental implants. If you'd like to learn more, please call Penn Dental Medicine today at 215-898-8965.