The American College of Prosthodontists estimates 36 million Americans don't have any teeth. More than 120 million Americans are missing at least one tooth. Seniors make up the majority of those who are missing teeth, as age often contributes to tooth loss.
Unfortunately, many seniors opt to live with missing teeth instead of replacing them with dentures or implants.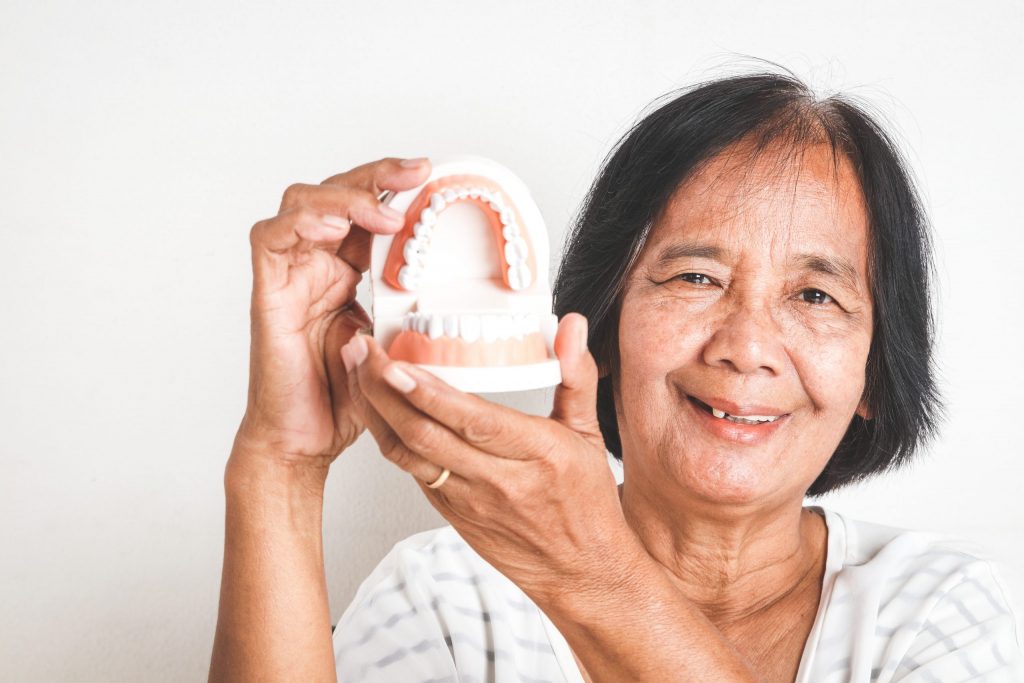 They make this choice for several reasons, but one of the most significant is cost. It's not always easy to find affordable dentures for seniors. Medicare doesn't cover any dental work performed outside of a hospital. Seniors need to pay for prosthodontics out of pocket, or secure separate dental insurance coverage. For a senior living on a fixed income, the cost of false teeth is out of reach.
At Penn Dental Medicine, we understand the challenges seniors face in accessing the dental care they need, from regular examinations and cleanings to prosthodontics. We're committed to providing high-quality, affordable dental care for all ages and stages, including seniors. We make it possible to get the dental care you need when you need it, helping you preserve your dental health—and your overall well-being.
Why
Wearing Dentures
Can Be So Important to Seniors
Making affordable dentures for seniors accessible is a priority for Penn Dental Medicine because missing teeth can be detrimental to your health in multiple ways.
Missing teeth can cause several problems, including;
Difficulty eating


Missing teeth can make it more difficult for you to to chew your food properly, which can lead to nutritional problems and deficiencies.



Difficulty speaking


Missing teeth can make it more difficult to speak, affecting your ability to communicate clearly.



Increased risk of further dental problems


Missing teeth can contribute to cavity formation in your remaining teeth, to gum disease, and to oral infections.



Changes to jaw alignment and bite


Missing teeth—even one—can cause your remaining teeth to shift, leading to pain, discomfort, and problems eating.



Bone loss in the jaw


Missing teeth can contribute to jawbone atrophy. Fewer teeth means less chewing pressure on your jawbone—pressure it needs to stay strong.
And while missing teeth affect more than your appearance, they affect it as well. Many seniors report lower self-esteem and confidence because they are missing teeth.
Seeing a prosthodontist about your tooth replacement options can help solve all these issues, giving you a new smile and new lease on life.
Effective and Affordable Tooth Replacement Options for Seniors
Penn Dental Medicine's graduate student dentists and prosthodontists work closely with every patient to identify the best tooth replacement option for their budget and dental needs.
Whether you need a full (complete) set of dentures or partial dentures, here's what you can expect:
Your Penn Dental provider will conduct a full examination to evaluate your overall

dental health

. You may need to have additional teeth extracted or undergo treatment for other dental issues before you can be fitted for dentures.

The prosthodontist will take an impression of your mouth to guide the fabrication of your dentures. At this point, you'll also discuss your replacement teeth's size, shape, and color.

You'll try on a wax model of your new teeth to check for fit and identify any necessary adjustments.

The laboratory fabricates your dentures according to your prosthodontist's specifications. The finished set is fitted during an office visit.




You'll be able to speak and eat normally right away, although you will likely have an adjustment period while you get used to

wearing the dentures

.
Depending on your oral health and whether you need any treatment before getting dentures, the entire process can take anywhere from around six weeks to up to three months. For example, if you need teeth extracted, the process takes longer, as you'll need to wait for your gums to heal.
Penn
Dental Medicine
Keeps the
Cost of Dentures
Economical
As are many seniors, you're likely aware you need full or partial dentures but have concerns about the cost.
Plenty of options for affordable dentures for seniors exist. Penn Dental Medicine will help you get the care you need within your budget.
At Penn Dental Medicine, student dentists provide all services, including prosthodontics, under the supervision of experienced Penn Dental educators. For this reason, our fees are typically lower than those other practices quote.
During your initial appointment, you'll receive a detailed estimate of fees for your service, meaning you can expect no unpleasant surprises once the work is done.
Penn Dental Medicine requires payment at the time of services, but we'll help you navigate your options, including convenient payment plans, for covering the cost of your dentures. We accept:
Cash, check, or credit cards




Most dental insurance plans




Care Credit, a third-party financing option for qualifying patients
You don't need to let finances stand in the way of your good dental health. Penn Dental Medicine can help you explore different options and find an affordable, effective solution for your missing teeth.
Trust Penn
Dental Medicine
Providers to Restore Your Smile
Penn Dental Medicine is Philadelphia's go-to source of affordable dentures for seniors. Here, high-quality, safe dental care and services, guided by some of the most experienced prosthodontists in the field today, go hand-in-hand with affordability.
To get more of the facts about dentures, download our free brochure, Dentures 101: Penn Dental Medicine's Guide to Dentures. Then, when you're ready, schedule your prosthodontic consultation online, or call us at 215-898-8965.