For many people, dental visits are just a normal part of life. Of course, some may have some anxiety about the appointment, and most don't look forward to procedures like having cavities filled or root canals. But in general, the average person can get dental care without too much trouble.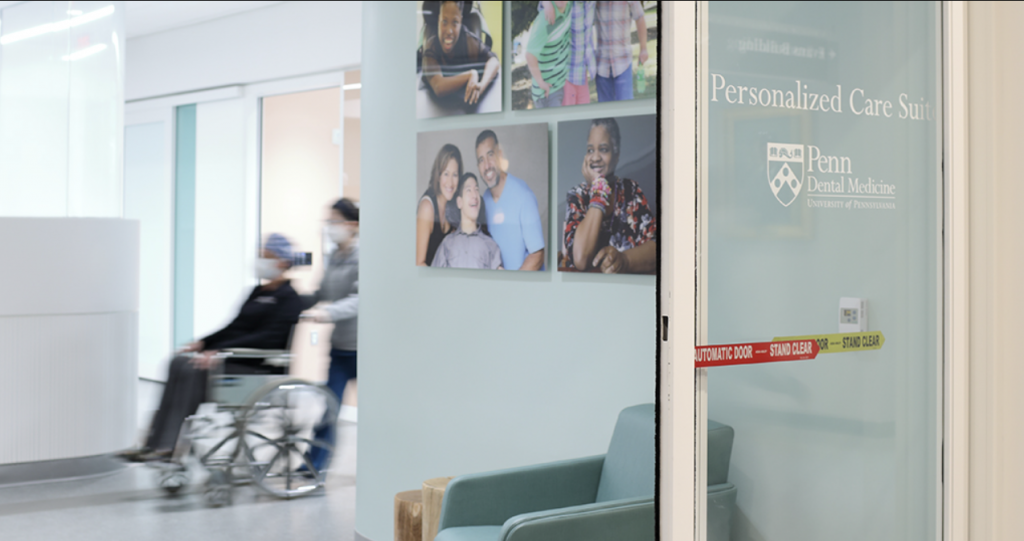 Dental care for disabled patients can be a bit more complicated. For patients who face challenges due to their physical, mental, emotional, and behavioral conditions, getting regular dental care isn't always just a matter of making an appointment. Not all dentists have the specialized skills and equipment to care for patients with disabilities, and factors like transportation and affordability create barriers that leave many disabled patients with significant oral health issues.
At Penn Dental Medicine, we understand these challenges. Our Care Center for Persons with Disabilities provides dental care for disabled patients in a Personalized Care Suite. Here, individuals with cognitive, physical, and behavioral challenges, as well as those living with complex medical conditions and trauma, receive the outstanding dental care they deserve in an environment that caters to their unique needs.
What Challenges Do Caregivers Face in Providing
Dental Care for Disabled Patients
?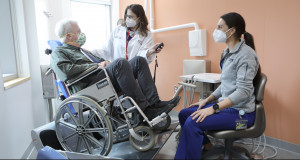 Penn Dental Medicine defines a patient with a disability as anyone who has limitations — physical, medical, behavioral, cognitive, or emotional — that keep them from accessing regular dental care. These are patients who need extra time and compassion, as well as additional education, to achieve optimal oral health.
Finding a dentist equipped to manage these challenges is not always easy. Persons with disabilities and their caregivers often struggle to find dental professionals equipped to meet their needs. Some of the most common challenges include:
Finding appropriate transportation to dental appointments.

Locating affordable dental care; often,

special needs patients

receive assistance through Medicare and Medicaid, which have restrictions that limit their access to specific providers and services.

Identifying providers able (and willing) to provide care for

people with special

needs.

Managing concerns about the patient, such as their willingness or ability to participate in dental exams and treatment.

Overcoming the emotional aspects of dental care, such as anxiety, embarrassment, or shame about the condition of their teeth.
Any of these challenges can create barriers to dental care for disabled patients, meaning that oral health care often takes a backseat to other health concerns for people with disabilities. If an individual is unable to care for themself, or their caregiver doesn't have the skills or education to provide adequate dental care, the effects can be catastrophic.
How Penn Dental Medicine Serves Persons with Disabilities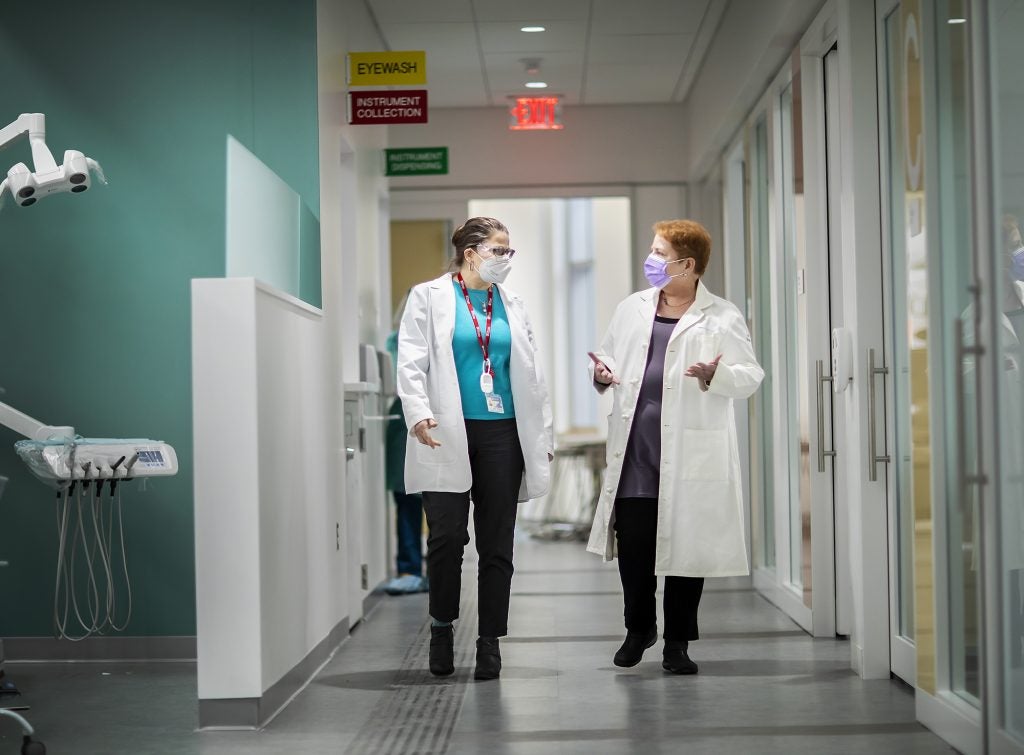 Penn Dental Medicine is committed to ensuring all patients receive high-quality dental care. The Personalized Care Suite in the Care Center for Persons with Disabilities is a supportive environment where patients and their caregivers are given the time and the resources they need to ensure a positive experience and exceptional dental care.
As in all Penn Dental Medicine settings, patients in the Personalized Care Suite are treated by Penn Dental students under the supervision of expert faculty. The Suite is equipped with a wide range of settings and equipment to support a range of needs, including:
Quiet rooms for patients with sensory sensitivities.

A wheelchair room with a lift for non-ambulatory patients.

A 'hoverchair' system, which allows patients to be treated on a stretcher or wheelchair without needing to be transferred.

A radiology room with equipment designed for those who may not be able to tolerate traditional X-ray imaging.

Nitrous oxide (laughing gas) available throughout the suite.
However, beyond technology, Penn Dental Medicine's Personalized Care Suite takes a compassionate, individualized approach to care for all patients. This begins even before the first visit, with a telephone consultation to discuss the patient's needs and concerns to develop a treatment plan for the visit in advance. Doing so reduces the time spent on paperwork at the beginning of the visit, allowing caregivers to focus on the patient. It also allows student dentists to learn more about the patient in advance, so they can personalize treatment from the very start of the visit.
Preparing the Next Generation of Dentists
Although persons with disabilities benefit from the quality, affordable care offered at Penn Dental Medicine today, the Personalized Care Suite is also instrumental in preparing the next generation of dental providers.
All Penn Dental students complete a rotation in the Suite to prepare them to provide care for special needs patients. Here, they learn valuable skills, including how to provide dental care without using anesthesia or sedation, which are not tolerated or appropriate for all patients. Students learn techniques for providing compassionate care that can be applied to any future patient.
The Personalized Care Suite is also home to the Colgate Innovation Laboratory, a center for developing innovative products and ideas for oral care and dental treatments. Student dentists and their patients have the opportunity to be at the forefront of state-of-the-art technology and treatment options.
Get the Dental Care You Deserve Today
Adults with disabilities deserve access to high-quality dental care. If you are seeking a dentist for yourself, or you are a caregiver looking for compassionate, capable care for an adult with a disability, make an appointment at Penn Dental Medicine's Personalized Care Suite. We provide affordable dental care for everyone and accept most dental insurance plans, as well as Medicare and Medicaid.
If you have questions about the Personalized Care Suite at the Care Center for Persons with Disabilities or want to make an appointment, click here or call 215-898-8180.