For people who use wheelchairs, many everyday tasks present significant challenges. One such task is going to the dentist. Not only is it often difficult to find a dentist equipped to care for wheelchair patients, but the experience at the dental office can also be frustrating, and even painful. The result is that many persons with disabilities have poor dental health.
Penn Dental Medicine is committed to eliminating those barriers, and the Personalized Care Suite for Persons with Disabilities makes it easy to find a dentist for wheelchair patients. Here, patients have access to providers with the skills, space, and equipment necessary to ensure top-quality, accessible dental care.
The Challenges of Seeing the
Dentist for Wheelchair Patients
Dental care for people who use wheelchairs has long presented problems for both the dentist and the patient. From the dentists' perspective, transferring patients from their wheelchair to the dental chair is preferable for ergonomic reasons, but that's not always possible.
First, there is always the possibility of an injury during the transfer process. Once the patient is in the chair, they may not be able to hold a stable position due to a lack of muscle control. This can cause them to slip down, which is both upsetting and dangerous.
Even patients with some degree of muscle strength may become uncomfortable sitting in the chair during the procedure and need to be repositioned. Stopping treatment to reposition a patient in the dental chair can create challenges, such as giving anesthesia time to wear off, which further complicates the appointment.
Of course, this assumes a person using a wheelchair (or their caregiver) is able to find a dentist to accommodate their needs, has transportation to the dental office, and has the resources to afford their care. The Care Suite for Persons with Disabilities at Penn Dental Medicine checks all of these boxes, filling a long-standing gap in dental options in the Philadelphia area.
Why Dental Care is Critical to
Persons With Disabilities
Good oral health is important for everyone, as the effects of poor oral hygiene and lack of dental care are detrimental to anyone of any age. For individuals who struggle to care for their teeth due to a disability or medical condition, and also cannot see a dentist on a regular basis, the impact can be even greater.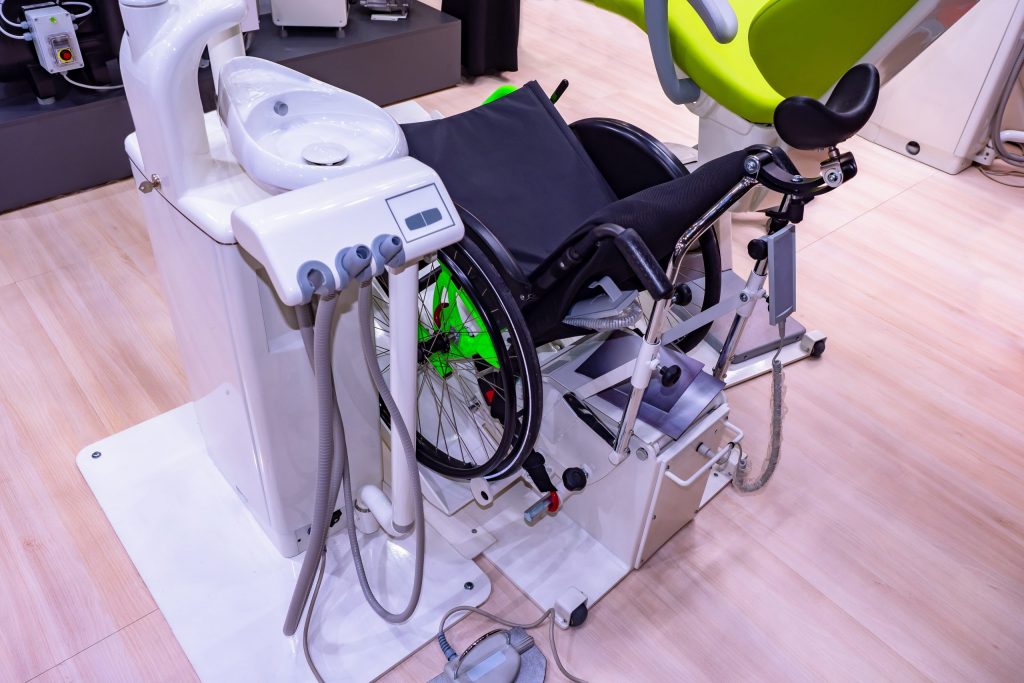 Research indicates that individuals with disabilities—physical, intellectual, and developmental—are vulnerable to poor oral health, including periodontal disease and untreated tooth decay. Such disabilities include:
Spinal cord injuries

, which are associated with arm weakness, poor hand function, and limited mobility that prevent proper oral hygiene. Many medications prescribed for spinal cord injuries also cause dry mouth, which can lead to complications.

Cerebral palsy

, which creates challenges with coordination and muscle movement that typically require the use of a wheelchair, and that makes oral hygiene difficult. The disorder also increases the risk of a long list of dental concerns, including gum disease, malocclusion (misalignment of the teeth), bruxism, and enamel erosion.

Multiple sclerosis

, which

damages the brain and the spinal cord, and in some cases can cause mobility challenges or paralysis that require the use of a wheelchair. Some patients even lose their vision, which can limit their ability to properly care for their teeth and increase their risk for cavities and gum disease.

Muscular dystrophy

causes severe muscle weakness and loss that eventually requires the use of a wheelchair. In advanced stages, patients cannot care for their teeth themselves and require help from a caregiver, and are vulnerable to gum disease, tooth decay, and more.
Not all patients who use wheelchairs are at greater risk for dental problems because of their condition. For instance, individuals who have sustained a back injury or had a limb amputated often retain the ability to use their upper body. Still, the fact they use a chair means they need a dentist for wheelchair patients, and that's not always easy to find.
PDM is Improving Dental Care for Patients Using a Wheelchair
The Care Center for Persons with Disabilities at Penn Dental Medicine is a state-of-the-art facility designed to provide accessible dental care to adults with physical, intellectual, and developmental disabilities. In addition to receiving exceptional care, the space is thoughtfully designed to make the experience as comfortable as possible.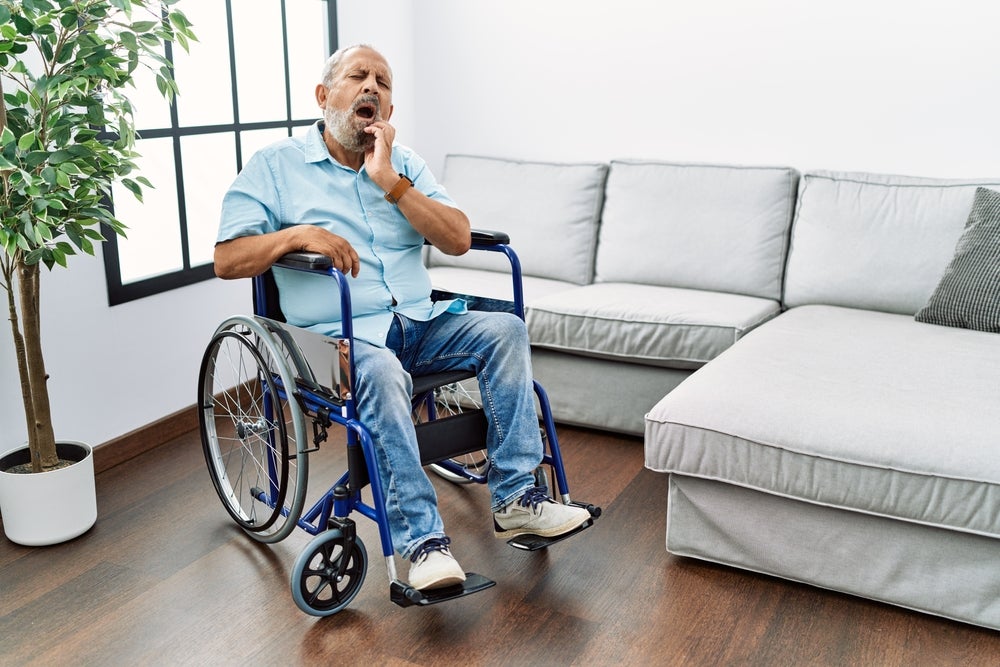 One way the Care Center for Persons with Disabilities accommodates patients who use wheelchairs is with the private wheelchair lift room. Here, patients do not need to transfer from their chairs into the dental chair. Instead, they can remain in their chair, which is lifted and tilted. This option helps ensure a patient's comfort and safety, while also making the procedure less stressful.
The Care Center is also equipped with several hover chairs. Unlike traditional dental chairs, these chairs are easily maneuverable and will glide across the floor with a simple push. This allows providers to care for patients in their wheelchairs more easily, ensuring comfort and safety.
Accessible Dental Care for Special Needs Adults
The Care Center for Persons With Disabilities at Penn Dental Medicine provides an array of additional accommodations and options to ensure that individuals with disabilities receive the dental care they need. These include:
A quiet room to reduce anxiety and overstimulation

Six closed operatories

A six-chair open bay

Private consultation rooms

And more
Quality Care for Everyone at Penn Dental Medicine
Everyone deserves oral health care, and needing to use a wheelchair should not prevent anyone from accessing high-quality dental services. The Personalized Care Suite at Penn Dental Medicine is designed to meet the needs of wheelchair patients, but it's so much more than a wheelchair-accessible space.
Penn Dental Medicine patients receive care from a team of skilled student dentists, dental hygienists, dental faculty members, and others who are skilled at delivering care to patients with all types of needs. Our commitment to accessibility also extends to affordability. As a dental school, we offer affordable rates and accept most dental insurance plans, including Medicaid. Penn Dental Medicine can also work with you to develop payment plans as needed.
To learn more about the Personalized Care Suite or make an appointment, please call 215-898-8180 or fill out the form.