What is periodontal disease?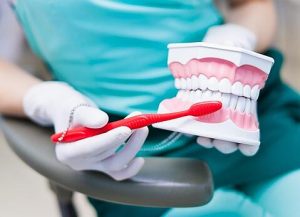 Periodontal disease is more commonly known as gum disease. Gum disease is recognized as redness, inflammation, tenderness, and bleeding of the gums due to a combination of health risks, poor oral hygiene or possibly an infection. There are several stages and variations of gum disease. The mildest form, gingivitis, is reversible with proper treatment. In the most severe cases, gum disease can progress to the point of bone loss, extensive tissue damage and even tooth loss.
Why do missing teeth matter?
A common dental misconception is that dental treatment for tooth loss is meant to serve mainly cosmetic purposes. However, the need for treating a missing tooth runs much deeper. Research has shown that tooth loss from advanced periodontal disease may increase the risk for developing cardiovascular disease and other conditions. Furthermore, bone loss in the jaw that can result from extensive periodontal disease destabilizes the facial and tooth structures in the whole mouth leaving it vulnerable to further loss, decay and infection.
Who can treat periodontal disease?
Our predoctoral students and postdoctoral residents at Penn Dental Medicine trained in periodontal care will be able to diagnose, treat and resolve gum disease with the oversight of our outstanding periodontal faculty. It is important to seek expert dental care from dentists who are qualified to treat patients for both restorative and specialty care services.
Fill out the form on the right to access our complimentary eBook authored with you in mind: "Periodontics Treatment: Do You Really Need It? Understanding Patient Mouth & Gum Health (PDF)." This 5-minute read should give you a better perspective on the value of periodontal care, and will help you decide whether you should seek treatment.
To reach us with questions or to schedule an appointment, call us at 215-898-8965.