A good prosthodontist can make a huge difference in your smile. Do you have the tools you need to find the prosthodontist who is right for you?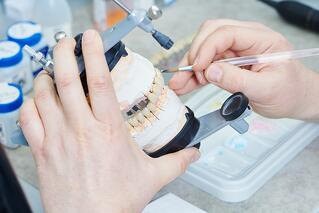 A prosthodontist who can repair your smile might be harder to find than you think. After you take into account availability, insurance issues, and proximity, there are still some key differences between prosthodontists. You'll need to navigate these differences to pick the right one, and not doing your due diligence could be a costly mistake.
Luckily, Penn Dental Medicine can help. We've created an informative brochure to help you decide on a prosthodontist. This short 5-10 minute read contains:
A short discussion of the struggle to find a prosthodontist who is a good fit for you and your family
An explanation of what factors set prosthodontists apart, and an assessment of what each factor means for your treatment
A list of questions to ask your prosthodontist when you're deciding on treatment and want to know how a prosthodontist will conduct a procedure
If you're having trouble deciding on a prosthodontist for you and your family, let us help. Complete the form here and download this complimentary brochure. Take the first steps toward your new smile today!