According to the American College of Prosthodontists, over 120 million have at least one missing tooth, of which 36 million do not have any teeth. The price of missing teeth tends to be higher than people often expect. It has an impact on your ability to eat and speak, while leading to permanent bone loss in the jaw. Fortunately, you can get dental implants near Cherry Hill at an affordable rate at Penn Dental Medicine.
Why Dental Implants?
If you wait too long to get an implant, you may lose your window of opportunity as the teeth gradually shift to try to fill the gap. This shifting does not actually solve the problem because it cannot prevent the inevitable bone loss that takes place over time.
However, dental implants will not only prevent bone loss (and its associated sagging effects in the face) but also stimulate bone growth naturally. Once the implant has integrated with the jaw, you will be able to eat, speak, and smile as you once did. We believe you should consider receiving dental implants at our clinic near Cherry Hill because: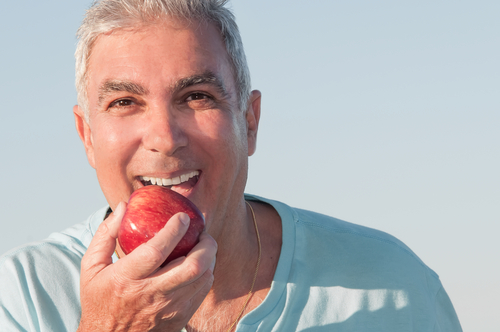 Implants Are Amazingly Successful
Patients who are eligible for this treatment can expect the procedure to work. With a 95-98% success rate, dental implants are one of the most effective options for managing lost teeth. Candidates must have sufficient bone and gum tissue to be considered for the surgery. However, even patients with some recession and jawbone loss are not automatically disqualified. Your prosthodontist can determine whether you would be a good candidate for implants.
Implants Should Last a Lifetime
A dental implant requires the same upkeep and care that a normal tooth needs. Patients who practice regular daily hygiene through flossing and brushing have a very high likelihood of enjoying the benefits of their implant for the rest of their life. You'll need to commit to regular follow-up visits to the dentist as part of this maintenance. But the longevity of the implant makes it one of the most valuable surgical interventions out there!
Implants Function Just Like Natural Teeth
Because they are anchored directly to the jaw, tooth implants have the same stability you would expect from your natural teeth. The firm support of the implant guarantees that the false tooth won't slip or fall, the way you might experience with other replacement options. You can bite down with confidence because the prosthetic tooth cannot slip or move around in the mouth!
Dental Implants at Penn Dental Medicine
Penn Dental Medicine's affordable prices make it possible for many Philadelphia and Cherry Hill residents to get the dental implants they need. As a dental school clinic, we can offer affordable rates for our patients. We also have a strong reputation in the area for quality care, which is backed by our associating with the University of Pennsylvania School of Dental Medicine. At PDM, you get the best of both worlds: excellent, affordable care.
Dental implants have never been so easy or affordable. We hope you'll visit us soon to schedule your consultation—it's a decision you'll be glad you made for many years to come!
Also: wondering how implants and dentures compare? Download our easy-to-read chart!